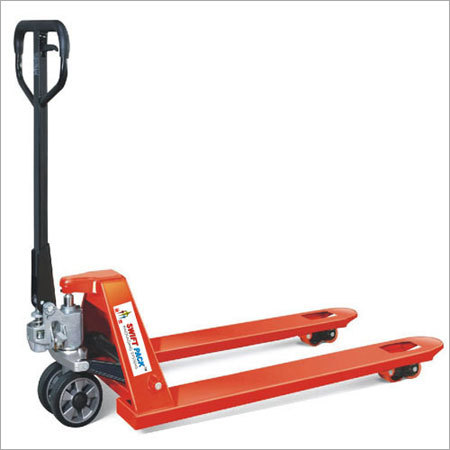 Product Description
Our company is a reliable manufacturer and supplier of Hydraulic Pallet Truck. The offered equipment is widely admired due to trouble free functioning and corrosion resistance. We manufacture it by using graded raw materials that are procured from certified and reliable dealers of the domain. Our Hydraulic Pallet Truck is meticulously tested on various quality parameters to ensure its excellent maneuverability and longer service life. In addition, we can customize our array as per specific requirements of the clients.

Hydraulic pallet truck offers ease and productivity, both

Our hydraulic pallet trucks are great for manual tasks. Used for short distances, they are safe, robust and durable in nature. They are very economical, and suited for a range of material handling applications. With optimized hydraulic systems, our pallet trucks ensure noiseless operation and safe operating. They are perfect for horizontal transport, loading / unloading, order picking and stacking. Also, our pallet trucks are designed for simple and long-lasting use. They offer efficient movement of goods and involve very little effort.

Features/Benefits:


Lift & transport pallet loads easily
Work in an efficient and reliable way
Excellent turning angle
Durability in toughest applications
Very strong and light-weight steel construction
Utility for warehouses, docks, factories, and workshops etc.

Technical Data:


| | | | | |
| --- | --- | --- | --- | --- |
| Model Pallet Truck | PPT 2.0 (Heavy Duty) | SPPT 2.5 (Heavy Duty) | SPPT 3.0 (Heavy Duty) | SPPT 5.0 (Heavy Duty) |
| Capacity(Kg) | 2000 | 2500 | 3000 | 5000 |
| Min. fork Height(mm) | 85 | 85 | 85 | 85 |
| Max. fork Height (mm) | 195 | 195 | 195 | 195 |
| Lifting height (mm) | 110 | 110 | 110 | 110 |
| Fork Length(mm) | 1150 | 1150 | 1220 | 1220 |
| Single fork Width(mm) | 200 | 200 | 200 | 160 |
| Fork overall width(mm) | 550 | 550 | 685 | 685 |
| Fork wheel single(mm) | 80 x 93 | 80 x 93 | 80 x 93 | 80 x 93 |
| Fork wheel tandem(mm) | 180 x 50 | 180 x 50 | 180 x 50 | 180 x 50 |
| Steering wheel (mm) | 180 | 180 | 180 | 180 |